Best ways to protect your rental property in Beaumont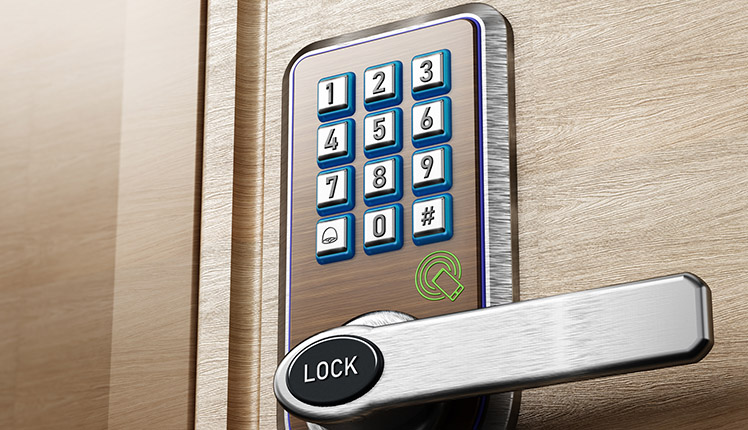 Regardless of whether you rent out your family's cottage or have numerous Airbnbs, it's often a challenge to protect your rental properties in Beaumont. Unless you're always on site, it's normal to worry about keys getting copied or former renters unexpectedly showing up. In addition, what would you do when there's an emergency like a fire at your rental unit while it's being leased?
From enhanced locks to fully automated security systems, here are some helpful tips on how to protect your Airbnb in Beaumont.
Say goodbye to traditional keys when you use smart door locks
When a visitor checks out, they might leave the keys behind for the following inhabitant. However, if they snatched or secretly made copies of a key, they would be able to re-enter later. Of course, you might replace your locks when a key is "misplaced", but that is not a timely or cost-effective solution.
You'll want to put in smart door locks that operate alongside your security system to put these concerns at ease. You can then give each visitor their own unique entry code. When they leave, there's no reason to mess with a key dropoff. You can simply customize the temporary code to no longer work when they're gone. If former inhabitants come back and attempt to use their previous access code on the number pad, you will be warned with an update of the failed attempt on your smartphone.
A smart security system makes available rentals appear occupied at all times
It's nice to think that your Beaumont rental property will have guests, but that isn't likely to always be the case. However, you always want to make it appear that someone is home so your place isn't an easy mark for thieves. Installing home automation into your property's security gives you the chance to use smart light bulbs, motion detection equipment, and video cameras that make your lodging appear occupied.
Begin by scheduling some lights to switch on at specified times of the night. Then, use your cell phone app to notify you if your cameras detect an unwanted guest lurking in the dark or walking toward your main entrance. You have the opportunity to take advantage of the talk capability to make them know they're being watched or set your lights to instantly turn on when a camera or motion detector identifies suspicious activity.
Protect your Beaumont Airbnb with around-the-clock monitoring
Your renters will have more peace of mind if they are safeguarded from intruders, particularly when Beaumont is somewhat unfamiliar. If a robber tries to gain entry, your home alarm system will not only sound a siren but will also ping your 24/7 monitoring agents. Regardless of your location, help will be forthcoming. Your monitoring specialists are capable of acting as your authorized go-between and patch you in when you're able.
Besides break-ins, your monitoring team can link to fire alarms, flood detectors, and CO detectors. It can be upsetting for your renter if flooding occurs or a fire breaks out. You not only will get a smartphone alert that a potentially dangerous event has occurred, but a representative will also coordinate help from emergency personnel while you're en route.
Request an innovative home protection plan in Beaumont
Protect your Beaumont Airbnb with a home security system. Thankfully, Vivint offers great features like smart lighting, smart locks, and 24/7 monitoring. Contact us today and our home security experts will personalize a system that makes sense for your Airbnb or rental property. Phone (409) 978-7822 or submit the form to begin!
Areas Served Around Beaumont By Smart Security Specialists Your Local Vivint Authorized Dealer